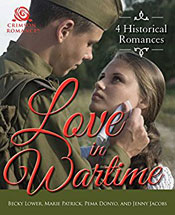 Love in Wartime
Love In Wartime
A value-priced collection featuring four heart-tugging historical romance stories of love and hope, set against the backdrops of war-torn battlefields and the home front.

Love is a battlefield in these four romances starring courageous patriots called to duty for their country. With emotions running high and lives placed bravely on the lines, will they have the strength to fight for love as war wages on?

The Forgotten Debutante: Saffron Fitzpatrick spent her teenage years mourning the dead rather than dancing at her debutante ball, with the exception of one forbidden kiss with solider Ezekiel Boone. Fate reunites the couple three years later, and they discover unexpected common ground and begin to build a relationship. But though the war is over, a future together may still elude them…especially if Saffron's brother and the U.S. Army have anything to say about it.
Order eBook: Amazon